This page documents U.S. Air Force helicopter accidents. If you have any information to contribute, please contact us.
H-21
Sewart AFB, TN
15 Jun 1956
Joint Project, US Air Force and US Navy 15 June 1956
(PHOTOS COURTESY OF CHUCK SEVERNS)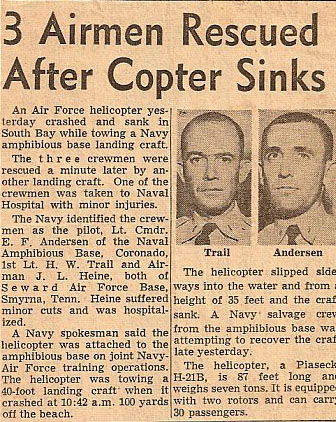 The Navy wanted to know the feasibility of towing a breached landing craft off of the beach, during an amphibious assault landing operation.
We had 2 H-21's at Sewart AFB, TN modified with tow hooks, similar to a Navy jets landing hooks. These were mounted under the aft portion of the aircraft, just forward of the keel assembly under the engine compartment. They were hydraulically operated up and down to stow.
We flew from TN, to San Diego CA. We had the helicopters at Ream NAS Imperial Beach, and we were housed at the amphibious base at Coronado. I was A1C and NCOIC of the operation.
The only tow cable indications were from the flight mechanic laying on the floor, and leaning out the back door talking to the pilots.
The first day of testing we went to the strand south of Coronado, CA. They had a D-8 CAT on the beach. We were able to tow it with no trouble. So they lowered the blade into the sand, and we were still able to tow it with no problems. I flew that day on A1C Heine's aircraft. He was on the beach with Navy personnel observing the operation.
The second day we moved to San Diego bay. A1C Heine was flying on my aircraft. I was on the beach this time watching the operation. Towing the LCM (Mick) boat didn't even straighten out the tow cable. They put the engines on the boat in full reverse. Still no problem.
They were towing in a large circle, the helicopter got a bit of a left yaw, and with the boat in full reverse, flipped it into the water. Heine was out the back door and the impact threw him into the smashed right side of the aircraft. He was the only one on board that required hospitalization.
We sat there for six more weeks while the accident investigation board reviewed everything that had gone on.
Back at Sewart, 2 helicopters were modified with winch assemblies in the compartment forward of the engine. Where the cable passed through the fuselage there was a wiper assembly the indicated cable position in the cockpit.
Other crews went back to San Diego and successfully towed an LST at ½ its normal cruise speed. I don't know if the Navy ever used the procedure, but we proved it could be done.
(Note: This one of several stories that fellow ROTORHEAD Chuck Severns wanted to share with the group. Chuck passed away on 22 Feb 2007)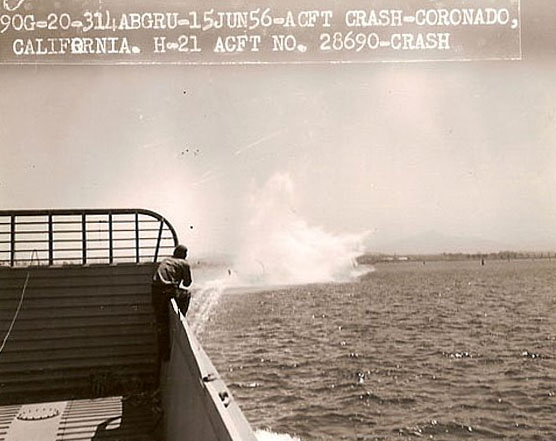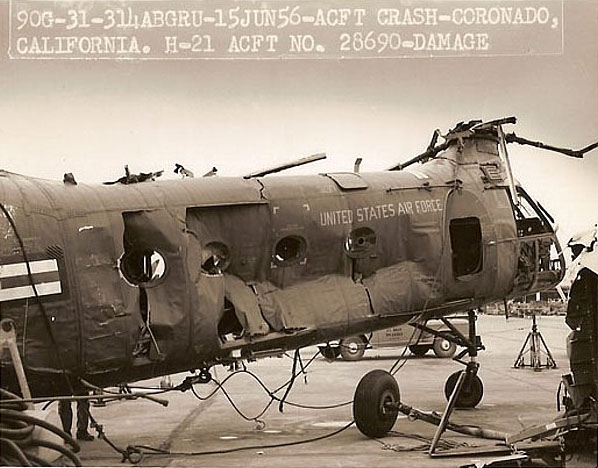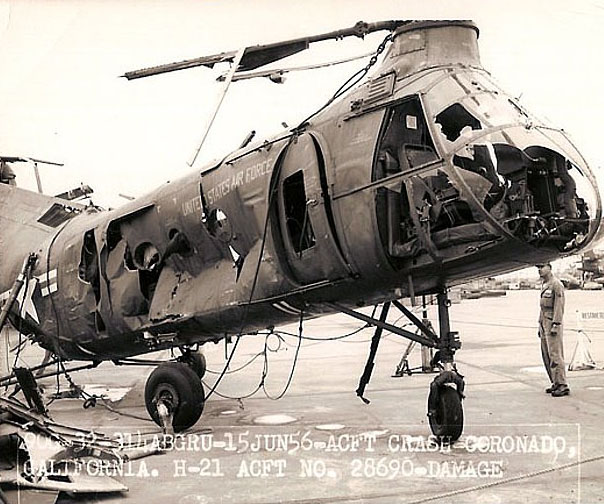 Integrity, Honor, and Respect
Some of the best things cannot be bought, they must be earned