This page documents U.S. Air Force helicopter accidents. If you have any information to contribute, please contact us.
UH-1F
Whiteman AFB, MO
11 Jun 1982
History of Bates County: Tragedy Strikes Missile Escort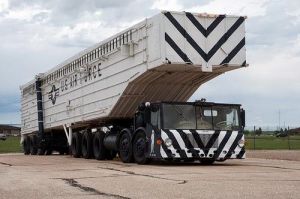 January 15, 2015
Bates County News Wire
By Doug Mager

This is the final segment of our three part History of Bates County series featuring information about Minuteman missile silos and launch facilities formerly located throughout the area June 11, 1982. Misty, overcast conditions greeted twins Les and Wes Nieder, 19, of Amsterdam as they began their daily farm chores, which included a trip down F highway near the Miami school.
Around 9:30 am, they met an Air Force missile transport heading west. It wasn't unusual to see one of these trucks at any given time. What was unusual was the UH-1 Huey helicopter flying very low, slightly erratically. The helicopter was not tracking with the vehicle but had just crossed over the highway and was headed northeast.
The pilots had radioed a few minutes earlier to let flight control know there was a problem with the aircraft. It is guessed that they may have been trying to make it to a suitable landing spot, possibly at Kilo 1, the closest Air Force facility which was just a couple of miles away.
Wes told his brother something was terribly wrong and thought the helicopter was probably going to crash. The tail section was wobbling badly and it was obvious the pilot was having difficulty controlling it. The Nieder's, somewhat panic stricken, tried to signal the transport truck to stop so they could inform the driver about what they had just seen. No dice. Unbeknownst to them, military transports don't stop for anything. Not even if their escort helicopter was in trouble. The truck continued towards Amsterdam as the twins headed their vehicle north to find the wreckage. In the muddy farm field just west of CC highway, about 3/4 of a mile north of F highway, 6 men are trapped in the burning helicopter. Those first on the scene, including the Nieders', said some screamed for help, but the flames were simply too hot- plus ammo bursting from within made getting close too dangerous.
The wreckage burned for about 3 hours while Air Force personnel, police and TV crews poured into the area. It was later in the afternoon before the bodies were removed and the area secured for the evening. In all, the scene was tightly guarded for several days while the investigation continued and wreckage was finally removed. Those who lost their lives were Capt. Richard Conrardy, 2nd Lt. James Hebert, Staff Sgt. Richard Bohling, Sgt. Thomas Meredith, Senior Airman Marion Pace and Senior Airman David Jones. A memorial for those who died was dedicated June 11, 1984 at Whiteman Air Force base.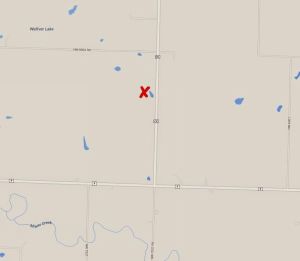 It was later determined that a small piece of the main rotor had broken loose, striking the tail rotor. The imbalance caused structural failure.
**The writer of this article walked the area of the crash a few weeks later- only to find a tiny bit of debris- a charred piece of a metal watchband. A sad reminder of the tragedy that unfolded a short time earlier.

Six Airmen who made the ultimate sacrifice
Posted 9/6/2007 Updated 9/10/2007
9/6/2007 – WHITEMAN AIR FORCE BASE, Mo. — June 11, 1982, Whiteman lost six Airmen after their UH-1F Iroquois helicopter crashed in a rural area 30 miles south of Kansas City. The two pilots from Detachment 9 of the 37th Aerospace Rescue and Recovery squadron, and four security policemen, from the 352nd Missile Security Squadron were providing security for a routine Air Force convoy transporting weapons system from Whiteman to a launch silo near Passaic, Mo. At the time, the UH-1 helicopter was one of four assigned to a military unit responsible of monitoring 50 of the Whiteman area missile silos. The crew were: Capt. Richard Conrardy, 2nd Lt. James Hebert, Staff Sgt. Richard Bohling, Sgt. Thomas Meredith, Senior Airman Marion Pace and Senior Airman David Jones. "They worked in conjunction with the forces on the ground to defend the weapon system against any possible attack," said Master Sgt. James Osban, 509th Security Forces Squadron. Part of their security convoy duties was to watch for any obstruction in the path of the convoy or for any security threats, Sergeant Osban said.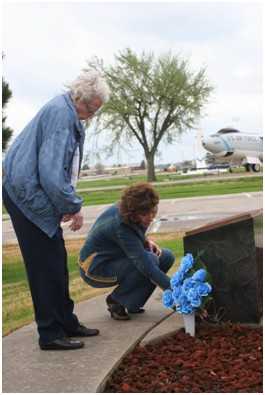 "With them being in the air, they could encounter the adversary from any direction with speed and agility. They were also used to relay back information to the ground teams on construction, railroad crossings and any information that might slow or stop the convoy," he said.
According to an Air Force report, the crash was caused when the helicopter's main rotor blade dipped out of position and struck the tail of the aircraft, which then broke apart.
Two years later, June 11, 1984, Whiteman dedicated a replica of the Bell UH-1 Iroquois at Peace Memorial Park located on Arnold Avenue near the 72nd Test and Evaluation Squadron building.
Although more than 25 years have passed, the sacrifice has not been forgotten.
"The 509th SFS is extremely honored by the tremendous accomplishments made by our sister units here during the Cold War," said Lt. Col. Craig Allton, 509th SFS commander. "The legacy of the Charlie fireteam members who made the ultimate sacrifice, will forever live in the hearts and minds of every Niner defender, and will constantly serve as an inspiration for all of us to strive for greatness within our profession."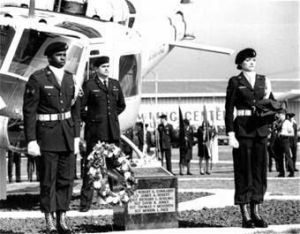 Furthermore, the courage of the six Airmen continues to inspire Airmen of today. "You cannot pass by the UH-1 static display or go through our museum without sensing what these six young Airmen stood for time and time again: integrity, service before self and excellence in all we do," Colonel Allton said. This memorial is just a small way for the community to pay respect to those who have made this type of sacrifice," Sergeant Osban added. "It is not just a static display of what used to be here, it is a display identifying the price that has been made by those before us; a price paid for the freedom that we enjoy every day."
That same freedom provides a means for the 509th SFS to commemorate the Airmen who died serving our country.
Although the competition stopped when the base turned to aircraft instead of missiles, the competition was a way for the troops to show respect to those individuals who made the ultimate sacrifice while defending this country and our way of life, Sergeant Osban said.
~Information provided by Robert Jones, brother of Sr. Amn. David Jones~
Integrity, Honor, and Respect
Some of the best things cannot be bought, they must be earned